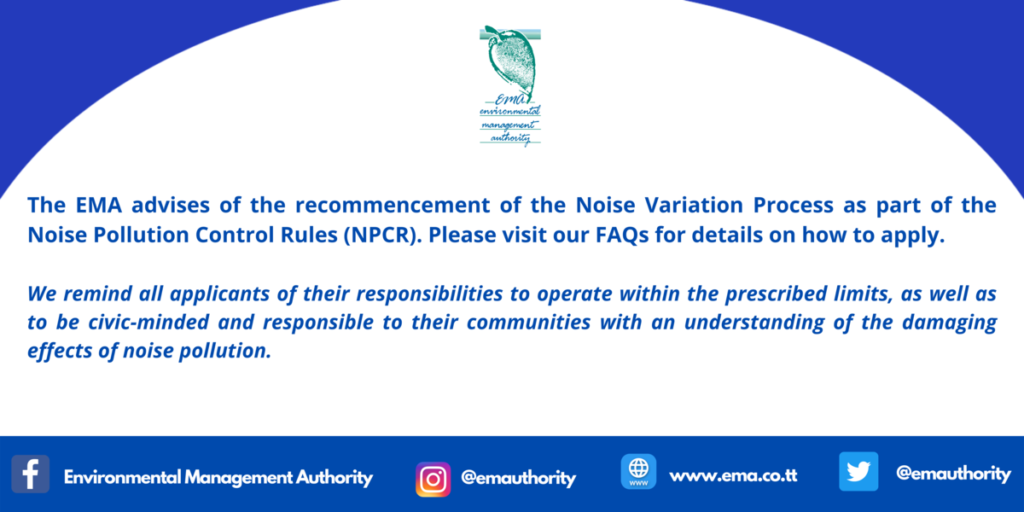 We are now accepting online submission of Variation applications
The EMA is now accepting digital submissions of Variation Applications via its dedicated email: noise@ema.co.tt. Applicants can download the fillable pdf application form included at the link below under Resources, complete and submit with all required attachments via email. Please note an application will not be accepted if it does not include all required accompanying documents. 
Hardcopy applications can be dropped off at our public offices
Port of Spain
San Fernando
Tobago
Port of Spain
8 Elizabeth Street, St.Clair
Port of Spain
San Fernando
Tobago
For further guidance on the requirements for your application and the application process please refer to the links included on the right of the page. You can also email us at noise@ema.co.tt with your queries.
We remind all applicants of their responsibilities to operate within the prescribed limits, as well as to be civic-minded and responsible to their communities with an understanding of the damaging effects of noise pollution.
The EMA investigates instances of recurring noise with the assistance of the Environmental Police Unit (EPU). The Trinidad and Tobago Police Service (TTPS) can provide immediate relief from noise pollution. The Police can use various pieces of legislation including the Summary Offences Act and the Motor Vehicles & Road Traffic Regulations to address the situation right away.
If anyone intends to exceed the standards set by the Noise Pollution Control Rules such as for a party or other event, they must first apply for and receive a Noise Variation from the Environmental Management Authority. A Noise Variation is a permit that allows a deviation from the prescribed standards of the NPCR, but also limits the level of sounds that can be emitted.
Noise Variation Application Fee Information
All Fees are to be deposited, directly to the EMA Account – #1183848, at First Citizen's Bank.
Applicants must attach the original receipt to the application form and keep a copy for their records.
Applicants must also ensure that the bank includes their name on the receipt.
Application fees are:  $250

(for single events), 

$1000

(for multiple events), and 

$2500

(activities in excess of 1 year, or part thereof)