Sunset in Aripo Savannas [Credit: Environmental Management Authority]
The Biodiversity and Protected Areas Management (BIOPAMA) programme aims to improve the long-term conservation and sustainable use of natural resources in African, Caribbean and Pacific (ACP) countries, in protected areas and surrounding communities. It is an initiative of the Organisation of African, Caribbean and Pacific States financed by the European Union's 11th European Development Fund (EDF), jointly implemented by the International Union for Conservation of Nature (IUCN) and the Joint Research Centre of the European Commission (JRC). Building on the first five years of activities financed by the 10th EDF (2012-2017), BIOPAMA's second phase provides tools for data and information management, services for improving the knowledge and capacity for protected area planning and decision making, and funding opportunities for specific site-based actions. www.biopama.org
The Environmental Management Authority, through a Small Technical Grant for Assessment from the Biodiversity and Protected Areas Management (BIOPAMA) Programme Action Component, is undertaking a project entitled: Managing Trinidad and Tobago's Environmentally Sensitive Areas: First assessment of management effectiveness in Aripo Savannas, Matura National Park and Nariva Swamp.
Project duration: March 15, 2022 – December 14, 2022
Project budget: EUR 18,506.25
Protected and Conserved Area(s) Concerned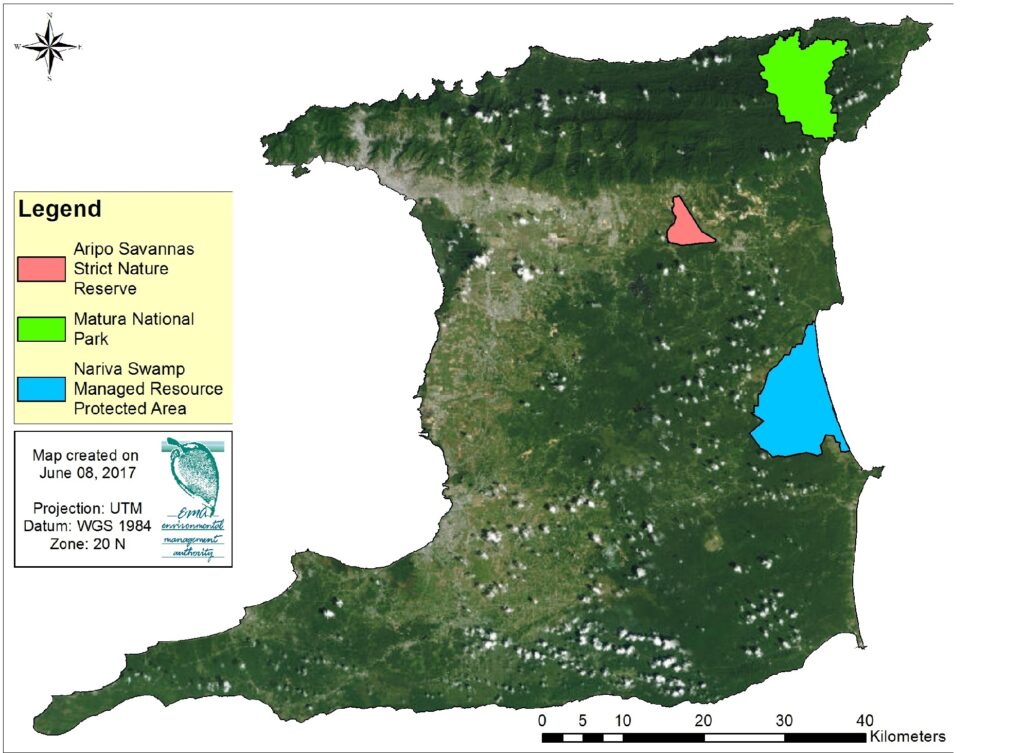 This is the first time an assessment tool has been applied within target protected areas. The complexity and interconnectedness of threats to the Environmentally Sensitive Areas make effective management challenging. The Management Advisory Committees for the protected areas have determined that more informed and data-driven management approaches are needed. The assessment will enhance the effectiveness of management through data collection and analysis to identify gaps and elucidate possible opportunities for the achievement of management objectives. Additionally, this assessment, which is suitable for replication, will form a baseline so that in future, progress in achieving management objectives can be assessed from a temporal perspective.
The assessment is needed in order to:
Acquire baseline data for each area;
Facilitate the prioritisation of conservation objectives and priority actions; and
Allow the voluntary stakeholder Management Advisory Committees to more effectively manage the protected areas.
For each protected area, consultants will:
Conduct a Management Effectiveness Tracking tool (METT-4) assessment, through stakeholder engagement exercises and a desktop analysis of available data;
Develop an action plan, based on the results/recommendations of the METT-4 assessment, which outlines the results of the METT-4 assessment, recommends updated priority actions for the management plan and describes the process for implementing the priority actions;
Develop a communications plan to share the results of the METT-4 assessment locally and globally.
Expected Results Of Project Implementation
The project's implementation will facilitate the establishment of a framework for a quantitative assessment of the status of the three (3) Environmentally Sensitive Areas, with the aim of improving their management. Outputs from the METT-4 assessments will focus different state bodies and other stakeholders on priority management actions and help develop opportunities for inter-agency cooperation to achieve management goals.
This website page has been produced with the financial assistance of the European Union and the Organisation of African, Caribbean and Pacific States through the BIOPAMA Programme. The contents of this document are the sole responsibility of the Environmental Management Authority and can under no circumstances be regarded as reflecting the position of the European Union nor of the Organisation of African, Caribbean and Pacific States.