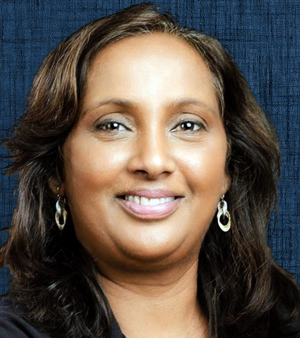 Ms. Nathai-Gyan is a graduate of York St. John University, UK with a Master of Arts in Leading Innovation and Change and from UWI in Zoology and Botany and post graduate courses in Environmental Biology.
She worked in the Forestry Division of the Government of Trinidad and Tobago for over 20 years, serving as Head of Wildlife for the last 13 years of her employment. During this time she administered wildlife and wetland conservation programmes, including the related Conventions of CITES and Ramsar and provided secretariat duties for the Cabinet-appointed Wildlife Conservation, Honorary Game Warden and National Wetlands Committees.
Some of the well-known projects in which she was involved are the Nariva Swamp Restoration Project and community co-management of the endangered leatherback turtles. She has authored either singly or jointly, papers on a range of wildlife and wetland related topics, delivered lectures/presentations, as well as facilitated workshops and seminars in this area of specialization. Currently she serves as the Conservation Adviser for the Zoological Society of Trinidad and Tobago. In this capacity, wildlife conservation, environmental education and social responsibility are among her responsibilities. She is also consulting on a national wildlife survey coordinated by the Environmental Management Authority.
She is also well-known in the Caribbean, through her work with MEAs and having taught many of the regional foresters at the Eastern Caribbean Institute of Agriculture and Forestry, and has served as one of the advisors on the pilot Caribbean Emerging Wildlife Conservation Leaders Program 2012-2014.